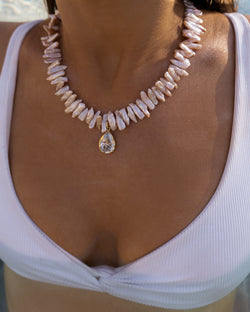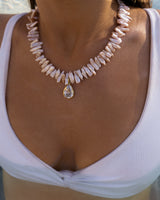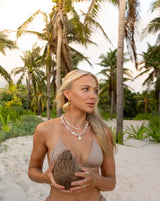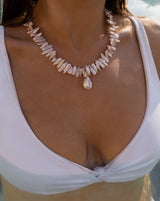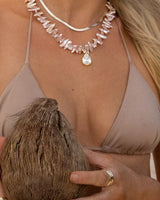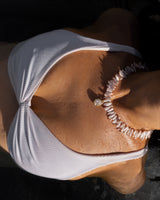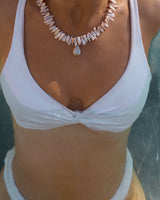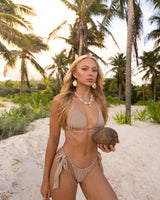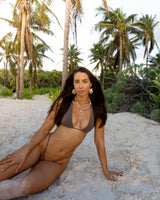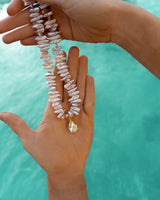 The Ancient Greek goddess of love, lust and beauty named Aphrodite was born in the foams of the water on the shore of Cyprus. She was known to wear pearls. 
Gold plated (18kt) on silver (925)
Lengths: 35 cm + 5cm extender 
Sustainable Pearls
Stone pendant: White crystal of truth.

 

It is a symbol of chastity, happiness, true friendship, and hope. It has healing abilities and releases tension while promoting feelings of joy and happiness.
Handcrafted in Bali
Help us inspire an ocean cautious lifestyle all over the world.

We plant 1 Coral for every order in Indonesia to restore the dying reefs and bring paradise back to earth. With this, we are able to protect the turtles and dolphins natural home.
We are working closely with our partners Blue Corner Conservation together to restore the dying reefs on our dive side in Nusa Penida, Indonesia.

Find out how our corals are planted in the video...
Preorder: All pieces are made to order to be as sustainable as possible and reduce waste.
Production Time: Allow us 3-4 weeks to hand-make your special design. After that we will ship your order immediately.
Shipping Time: 5-7 Days with Fed-Ex
Why Shop With us

Sustainably handmade with love in Bali

Get a coral planting certificate with your name

Save the ocean & its animals

Shipped in recycled packaging
Why you should shop with us & what brands to avoid?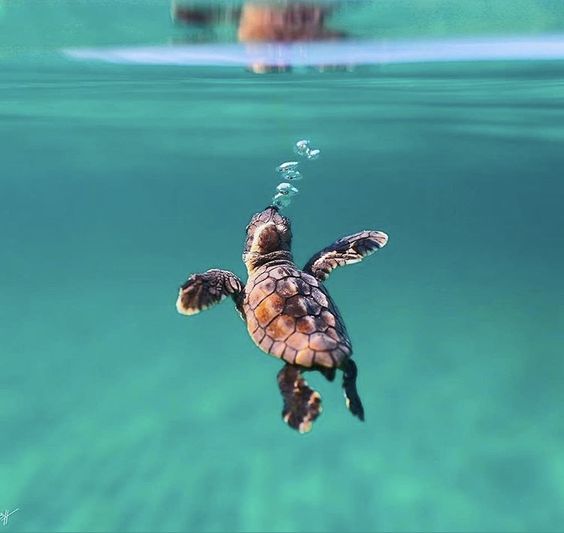 I was walking on the beach when I saw it...

The cutest little baby turtle I'd ever seen in my life.

He looked just like the one I was diving with a few minutes earlier.

Except this one was dead.

He had a plastic bag wrapped around his neck so tight it had already started cutting through his skin.

It was breaking my heart and I felt tears dripping down my cheeks.

And that`s when it hit me like a bag of bricks.
I had to change something.

As I looked closer, I discovered the problem.

More companies destroy mother earth than heal her scars.

Scars caused by the big destructive industries that wiped out whole species, steal our sacred land and pollute our waters.

And if we don't do something about it, turtles, dolphins, and all the
animals we used to live with so peacefully... will end up just like my
little turtle friend who washed up in front of me.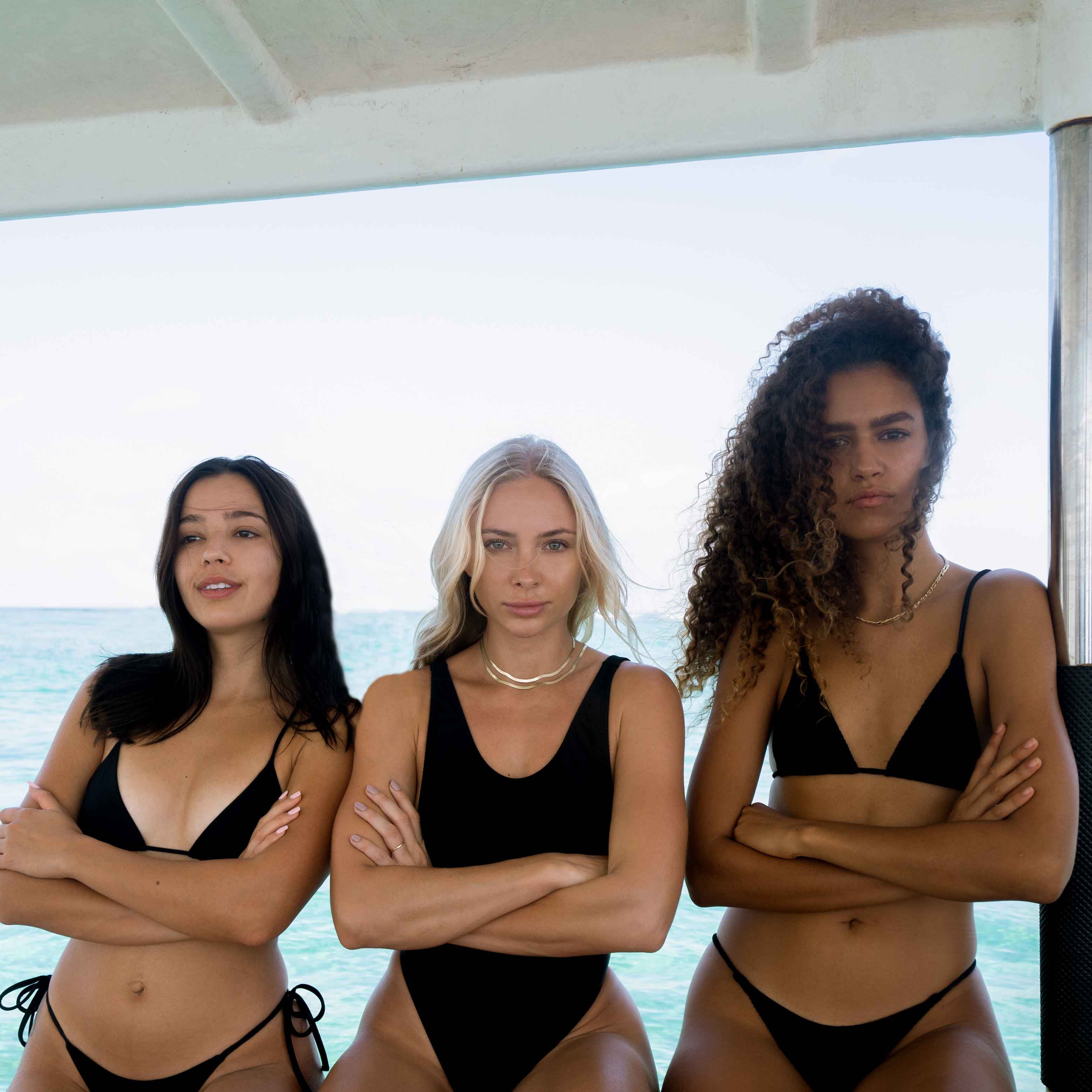 It was at this moment of realization that I made it my mission to be the best guardian of our natural world I could be.

And that's what I want to help you be a part of too.

Hey, my name is Jenny and I am urgently looking for like-minded women who care about the environment.

Which is why I created Leilani shells.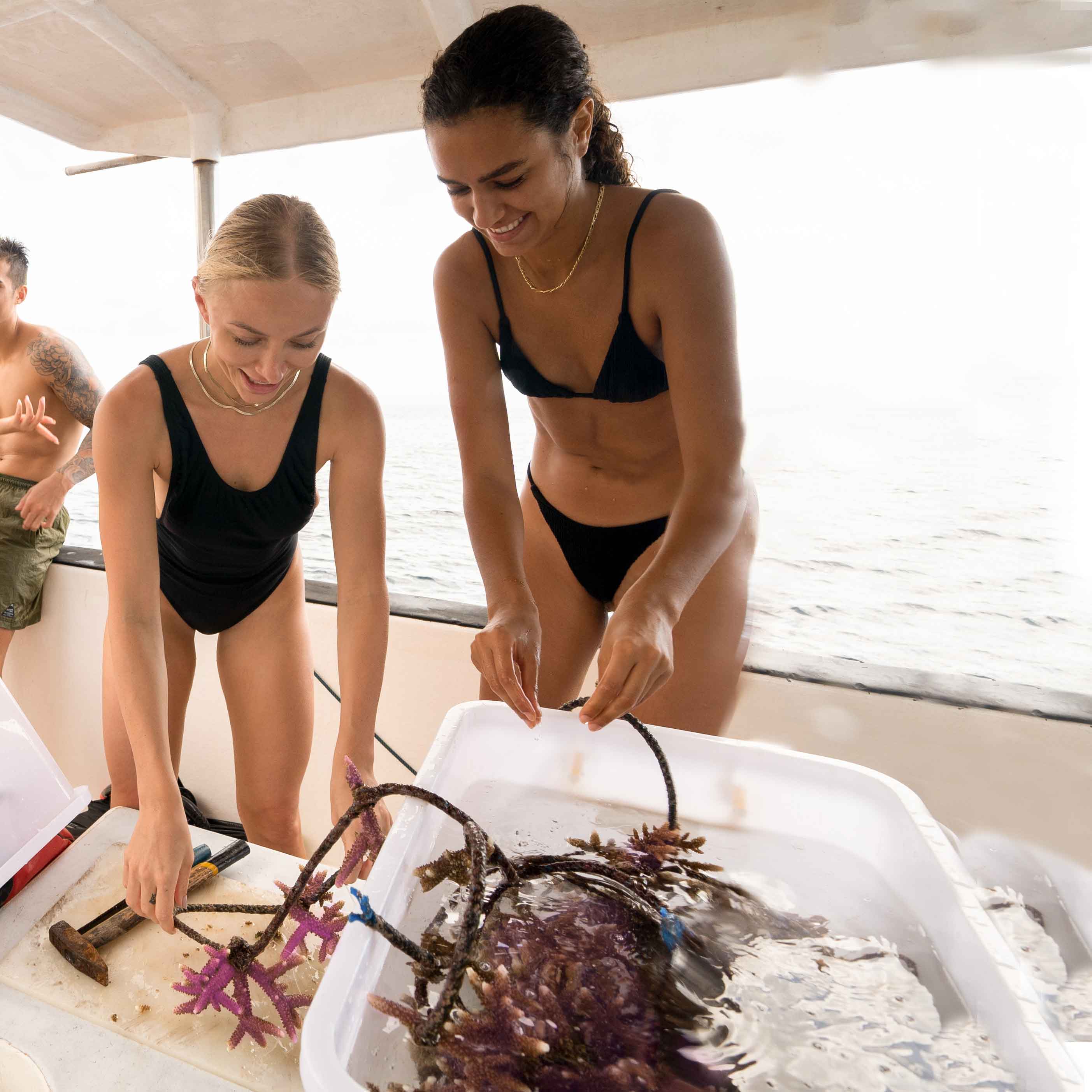 A way to raise awareness in our generation...

And save the ocean, by planting 1 new coral in Indonesia for every piece of jewelry we make.

At first, it was just an idea...

But now, it's become a reality for me & thousands of powerful women across the world.

The best part is that I feel like I am actually doing something to help save my beloved ocean and planet.

Over 2000+ Corals Planted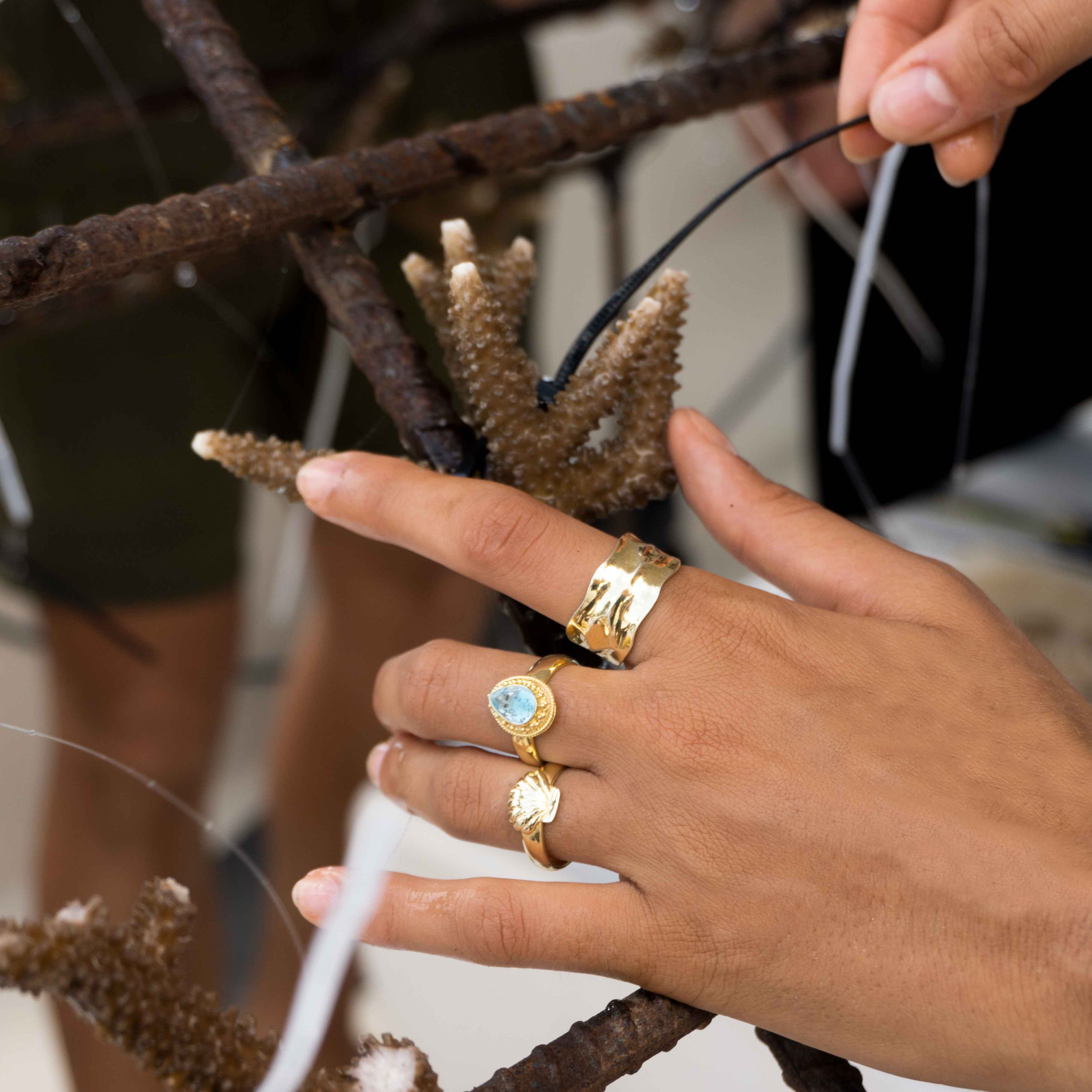 SECURING A CORAL FRAGMENT ON OUR FRAMES
OUR CORAL RESTAURATION SIDE BEFORE AND AFTER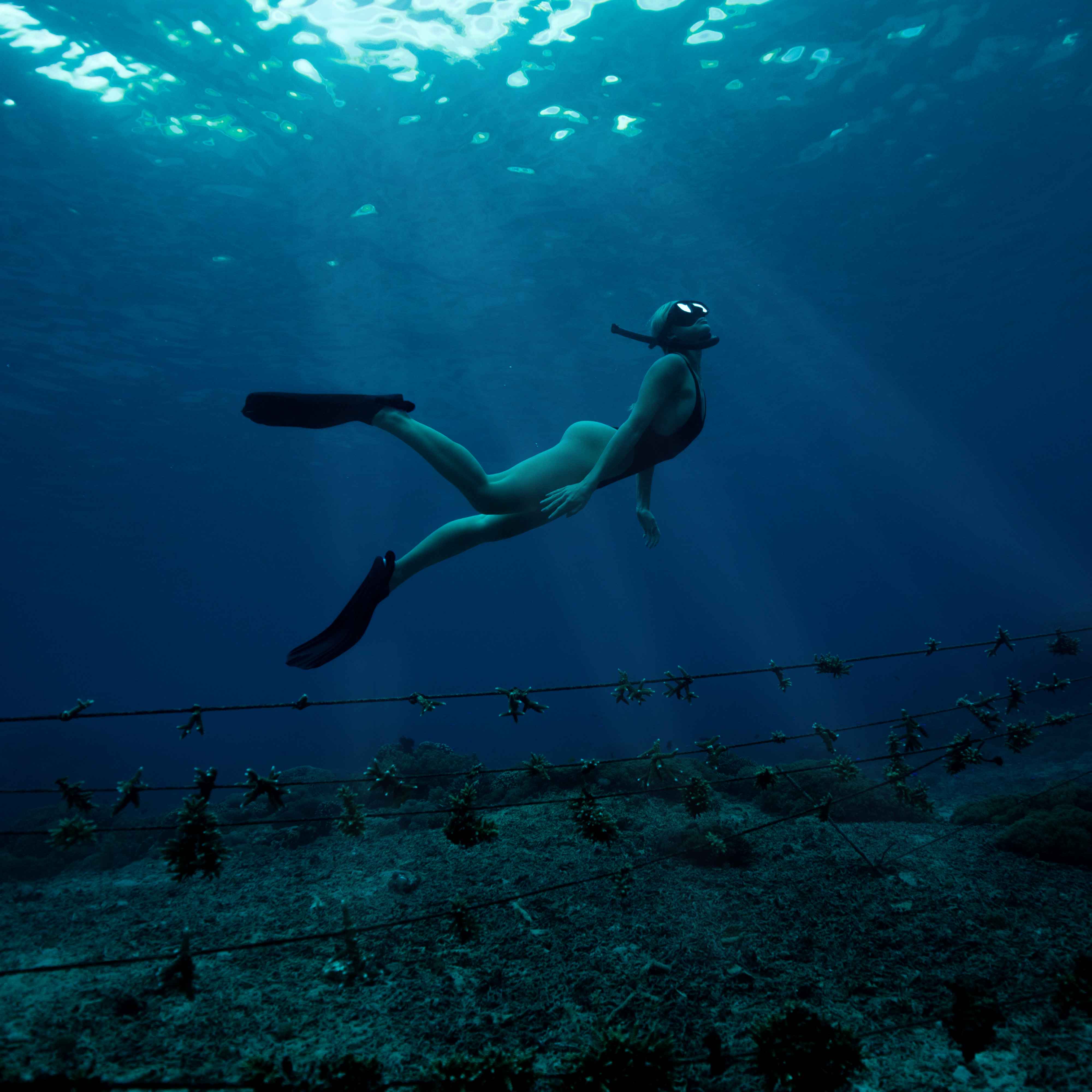 OUR CORAL NURSERY WHERE WE NURTURE BABY CORALS
When I wear my Jewelry I feel the pure connection to mother earth, her animals, and her wild nature.

It simply makes me feel beautiful, radiating in the sun's glow.

And every day I look at my jewelry, or get a glimpse of myself in the mirror...

I know we're making the earth a better place by planting new coral in our ocean & making a positive impact on the world.
I am calling all my sisters, my mermaids, ocean lovers, and earth activists to think about how much saving the world is worth to you?

The sad reality is that there are a lot of jewelry, fashion, and big
brands out there... but unfortunately most of them do more harm than
good.

You see it all over the news...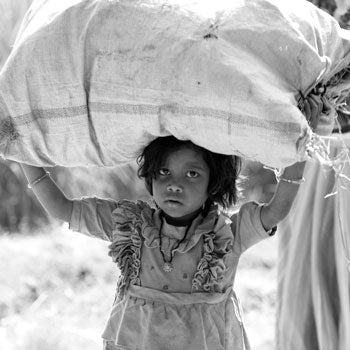 Cheap jewelry, toxic chemicals, and child labor are unfortunately the brands most supported in this world.

That's why I made it our mission to do things the right way.
Not only do we support the ocean, and donate coral for every order...

We also support the communities who need it most by working with Balinese craftsmen, and families.

Bringing a lot of our profits back into the communities & teaching them new skills (instead of huge manufacturing plants).
And giving you jewelry that is individually crafted, and unique with every piece.

Never mass-produced and never like "every other piece out there".

100% Satisfaction Guarantee

Bonus
1. You Get To Become A Certified Coral Planter For Free!
With every order you make, we give you a coral planting certificate with your name and a photo of your coral.
2. Get A Free Sustainable Travel Box
Made with humidity absorbing technology and recycled materials. It keeps your jewelry shiny and makes it last longer.